Directory
Michael Adcock
In Memoriam (1954–2018)
Mike Adcock
Scholarship Fund
give.ua.edu (type Adcock into the search field). Remember, VSA will match the first $12,500 in employee donations.

Celebration of Life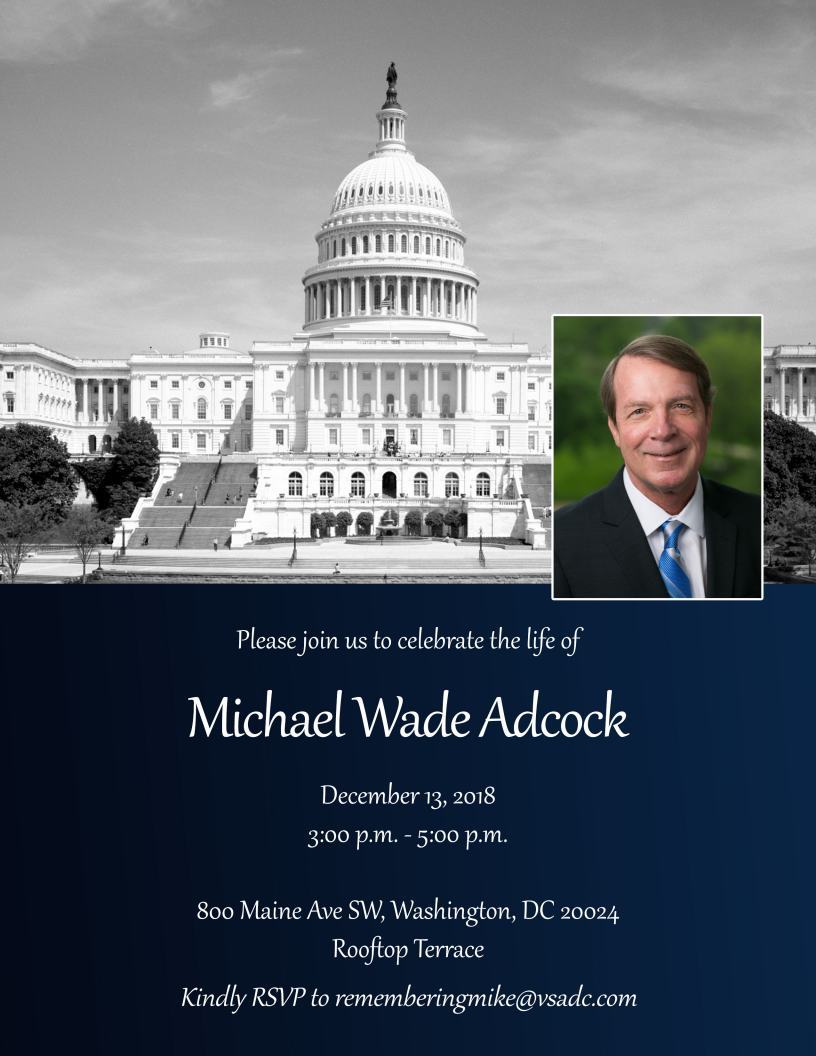 Obituary
Michael Wade Adcock Of Springfield, VA passed away on Saturday, October 27, 2018 at his home in Springfield, VA, surrounded by his family. He fought a brave and heroic battle with cancer for 10 years. He was 64.
Mike was above all else a loving and supportive father to his two daughters, Avery and Alexandra, and devoted husband to his wife, Cynthia Dodd Adcock. He taught Avery and Alley's Sunday school classes, coached their soccer and basketball teams, cheered them on in field hockey, and drove many thousands of miles in pre-dawn hours to tournaments and games all over the country. When "the girls" left for college, everyone worried about "Mr. Mike" and how he would fare. The blow was softened a bit when both daughters chose to attend his beloved alma mater, the University of Alabama, where he saw them often through his work with the University. He was also best friend and soul mate to his wife of 31 years, Cynthia, who is an Auburn graduate. It should be noted that his devotion never went so far as to say "War Eagle."
Mike loved the ocean and being on the water. He enjoyed spending time at his second home in Hutchinson Island, Florida where the family explored new restaurants, took long beach walks, and counted the turtle nests from the night before. Mike loved D.C., not just for the people and politics, but for its world-class restaurants, Smithsonian and other museums and the unlimited varieties of live music he was passionate about. Up until his illness prevented it, he was traveling to venues large and small to see up-and-coming bands and musicians. He loved to surprise his daughters and their friends with his knowledge of all kinds of music.
Mike felt fortunate to spend the vast majority of his career in Washington, DC doing what he loved; first as a Capitol Hill staff member, and for the last 20 years as a Vice President at Van Scoyoc Associates (VSA). Mike was honored to be trusted by clients such as the University of Alabama System and the Medical University of South Carolina, and proud to be relied upon by Members of Congress and their all-important staffs as a thoughtful voice in the legislative debate. He treated his jobs as a privilege as they enabled him to make a positive difference, both in Alabama and all over the United States. His uncanny ability to win the trust, friendship, and respect of those with whom he worked was a hallmark of his successful career.
He will be deeply missed, as noted by Senator Richard Shelby (R-AL) in a recent Twitter feed:, "Our hearts are heavy following the loss of Michael Adcock, a good friend and a true son of Alabama." Prior to joining VSA, Mike served for six years as Chief of Staff to Congressman Bud Cramer (D-AL), and for eight years as Press Secretary and Legislative Assistant to Congressman Ronnie Flippo (D-AL). Mike worked at the University of Alabama in Huntsville's Johnson Environmental and Energy Center in his hometown of Huntsville, Alabama for four years before coming to Capitol Hill. He was a graduate of Huntsville High School and the University of Alabama. He was a member of the Annandale United Methodist Church.
Mike is survived by his wife, Cynthia, daughters, Alexandra and Avery Adcock, and son-in-law, Chris Ramanauskas. He was the son of the late Dorothy and Floyd (Stopper) Adcock, both of Huntsville, AL, and was preceded in death by a brother, Richard Adcock.
A Celebration of Mike's life will be held in Washington, DC on December 13. For details on the celebration, please contact RememberingMike@vsadc.com. In lieu of flowers Mike's family requests that donations be made to the Michael W. Adcock Scholarship Fund at the University of Alabama, P.O. Box 870122, Tuscaloosa, AL, 35487 (or give.ua.edu type "Adcock" into search field).