September Employee Spotlight
JR Reskovac
The Brady Urological Institute, John Hopkins University, was founded in 1915, and is on the cutting edge of research and treatment of prostate cancer, and other urological diseases. Recently ranked as #2 in the nation by US News and World Report in urological hospitals, it continues to strive for positive patient outcomes.
I have been fortunate to continue to be treated at the Brady for my prostate cancer for several years, and have undergone trial efforts to stem the growth of the disease, as well as contribute to longer term learning of this particular cancer's origins as I remain under active surveillance.
I was honored to host a fundraiser at the Van Scoyoc Associates offices on May 8, 2018, where we were able to raise significant funds for the Institute's ongoing research efforts. I want to personally thank my colleagues and friends that contributed to this effort.
I will remain involved in assisting the Institute in its efforts to better understand and combat this disease. Much has been accomplished, but much remains to be solved.
Also, Capitol Decisions, Inc has been involved in title sponsorship of Pi Sigma Epsilon's annual charity golf tournament in Harrisonburg Virginia, home of James Madison University. The tournament benefits Our Community Place in Harrisonburg (www.ourommunityplace.org) which is a community center offering a wide array of social services to the homeless, including meals and group activities.
Charity: The Brady Urological Institute

2018 Annual Charity
HABITAT FOR HUMANITY NORTHERN VIRGINIA

VSA has the privilege of being a Build Team in a special collaboration between Habitat for Humanity of Northern Virginia and Mr. Benton, an Air Force veteran of the Vietnam War. Mr. Benton suffered a devastating home fire that left him without the resources to make repairs. He reached out to Habitat for Humanity of Northern Virginia with an offer -- he would donate part of his land to build a home for a family in need, if in turn they could provide him a similar lifeline, a new home -- House #1.

Habitat for Humanity Northern Virginia will place an immigrant family from Uzbekistan, a family of four, in House #2. Currently the parents and children, ages 17 and 11, are living in a one bedroom/one bathroom apartment. The kids sleep in a bunk bed located in the dining room. The father is a dishwasher, and when he comes home from work at 1-2am every night, he unavoidably wakes the children, as there is no privacy in the apartments. The two new homes home will each be 1600 sqft with three bedrooms and two bathrooms.
We are honored to be part of the team that helps Mr. Benton rebuild his life as well as his home.
Objective by October: VSC employees have set the fundraising goal at $4,500 and are eager to participate in a BUILD day in Alexandria, Virginia on October 20, 2018.
Online Donations: VSC staff, family, friends, and associates please consider supporting our fundraising efforts for H4H NOVA by making a donation. We thank you for your generosity!
Click here to donate Habitat for Humanity Northern Virginia

Near & Dears
N STREET VILLAGE is a community of empowerment and recovery for women in Washington, DC. N Street helps homeless and low-income women achieve stability and make meaningful gains in their housing, income, employment, mental health, physical health, and addiction recovery. Stu and Pat Van Scoyoc have supported the Village for many years, making charitable donations and serving on the Honorary Board. Stu's dedication to the Village is shared throughout the firm, with VSA staff volunteering and serving meals weekly at Bethany's Day Center.

MCSHIN FOUNDATION, A recovery resource foundation
To make a difference at the local level, Carol McDaid co-founded the McShin Foundation in Richmond, Virginia with her husband, John Shinholser in 2004. The McShin Foundation is Virginia's leading non-profit, full-service Recovery Community Organization (RCO), committed to serving individuals and families in their fight against Substance Use Disorders (SUDs). While providing the tools for recovering individuals to create positive lifestyles, McShin aims to spread the word of recovery and educate families, communities, and government regarding SUDs as well as reduce the stigma attached to them.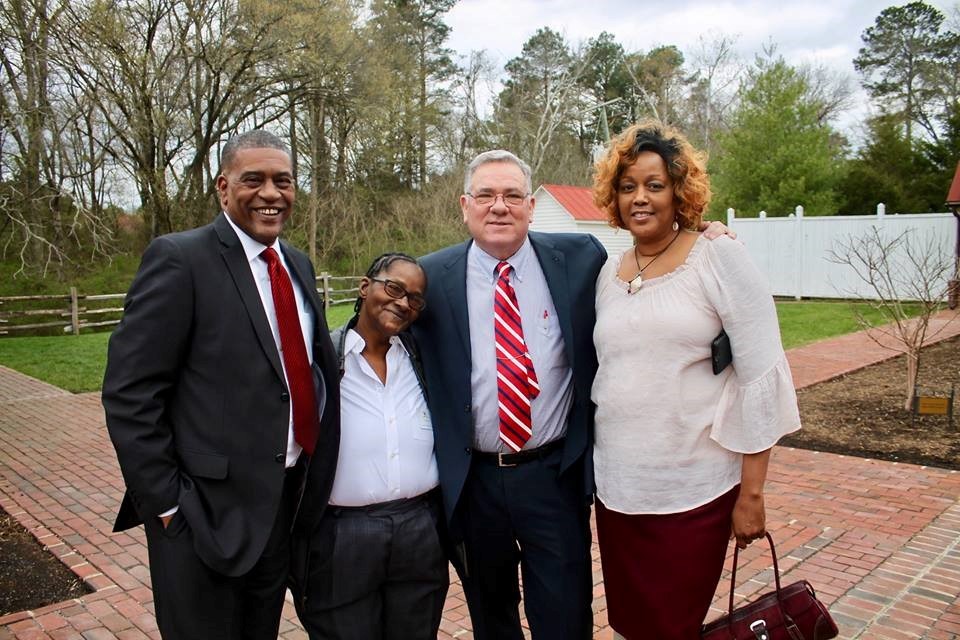 (Photo: Board Members John Finn and Virginia Hall, John Shinholser, President & Co-Founder,
and Unidentified Guest)

JEFFERSON MIDDLE SCHOOL ACADEMY
When VSA moved to The Wharf, our goal was to get involved with the community. We needed to look no further then across the street at Jefferson Middle School Academy. Since August 2017, VSA has participated in volunteer efforts at the Winter Extravaganza, and supporting the upcoming end of the year field trip to Six Flags. We are happy to get involved with the school and our new community.
Marj and MAK Vocational Center
A huge shout out to Pat & Stu! We are so proud to share the news that at the 2018 N Street Village gala Stu and Pat Van Scoyoc announced their investment to open the Marj and MAK Vocational Center, named in honor of their mothers. Also, Pat & Stu were the recipients of the 2018 Founders award, presented by Village alum Olivia Ramsey, who also recently retired from Van Scoyoc Associates.

(Photo: Schroeder Stribling, Olivia Ramsey, Pat & Stu Van Scoyoc)
Read more about the gala