EMPLOYEE SPOTLIGHT 1ST QUARTER 2019
JENNIFER CAVE

The Tragedy Assistance Program for Survivors (TAPS) offers compassionate care and resources to all those grieving the loss of a loved one who died while serving in our Armed Forces or as a result of his or her service. TAPS was founded in 1994 by Bonnie Carroll after her husband and 7 others were killed in a plane crash in Alaska. TAPS provides comfort and hope 24/7 through a national peer support network and connection to grief resources, such as the Good Grief Camp and seminars. I have been involved with their fundraising efforts as well as volunteering.

Also, I am proud to work at a company that has presented me the opportunity to become active at various VSA related fundraising initiatives including the Coast Guard Foundation, Navy Marine Corps Relief Society, Kidsave, University of Alabama Scholarship fund, N Street Village, and the VSA 2018 Annual Charity of Habitat for Humanity Northern Virginia, to name a few.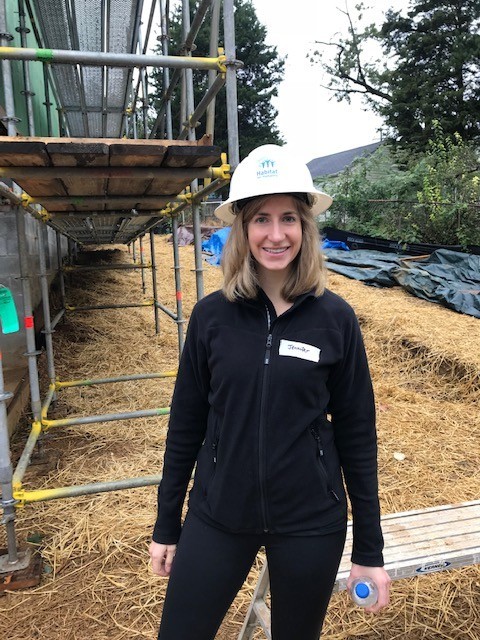 2019 Annual Charity
PANCREATIC CANCER ACTION NETWORK -- PURPLESTRIDE

The winner of the 2019 VSC Annual Charity is the Pancreatic Cancer Action Network. Founded in 1999, the Pancreatic Cancer Action Network (PanCAN) is dedicated to fighting the world's toughest cancer. In our urgent mission to save lives, we attack pancreatic cancer on all fronts: research, clinical initiatives, patient services and advocacy.

VSC staff, family and friends would like to rally behind Team LaTourette (Jennifer, Emma & Henry) and show their love and support by participating in PURPLESTRIDE, a walk in Washington, DC on June 8, 2019.


Jennifer LaTourette ... "On August 3, 2016 our loving dad and husband, Steve LaTourette, lost his 2-year battle against pancreatic cancer. Steve is missed deeply by his family, friends and colleagues. On June 8th, Team LaTourette will walk at PURPLESTRIDE in Washington DC in his memory, and we hope you will consider joining or supporting us."

DONATE AND/OR PARTICIPATE:
Join 2019 PURPLESTRIDE, for more information click here TEAM LATOURETTE/PURPLE STRIDE. Please add "VSA" in your personal note, as the firm will match such designated contributions.
2018 Annual Charity
HABITAT FOR HUMANITY NORTHERN VIRGINIA
VSA has the privilege of being a Build Team in a special collaboration between Habitat for Humanity of Northern Virginia and Mr. Benton, an Air Force veteran of the Vietnam War. Mr. Benton suffered a devastating home fire that left him without the resources to make repairs. He reached out to Habitat for Humanity of Northern Virginia with an offer -- he would donate part of his land to build a home for a family in need, if in turn they could provide him a similar lifeline, a new home -- House #1.

Habitat for Humanity Northern Virginia will place an immigrant family from Uzbekistan, a family of four, in House #2. Currently the parents and children, ages 17 and 11, are living in a one bedroom/one bathroom apartment. The kids sleep in a bunk bed located in the dining room. The father is a dishwasher, and when he comes home from work at 1-2am every night, he unavoidably wakes the children, as there is no privacy in the apartments. The two new homes home will each be 1600 sqft with three bedrooms and two bathrooms.

VSC employees had set the fundraising goal at $4,500 and are proud to have successfully raised $4,750!

A huge shout out to our VSC staff, family, friends, and associates for supporting our fundraising efforts for H4H NOVA.

We thank you for your generosity!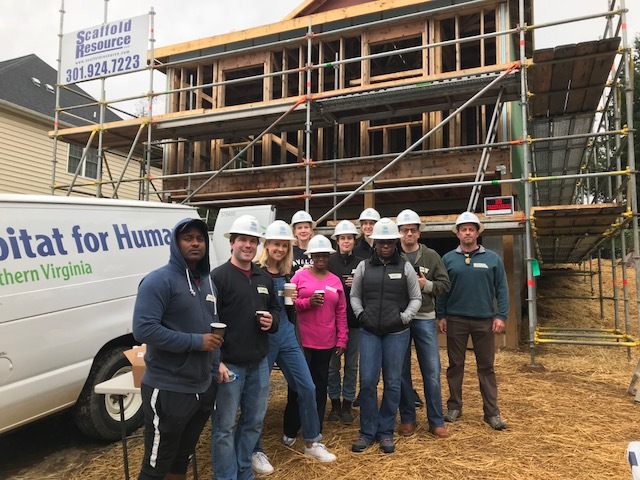 Photo: VSA Build Crew October 2018 -- Bobby Moges, David Haines, Allie Dodd, Laurie Katz,
India Allen, Sarah Herbert, Jennifer Cave, Aretha Robinson, Jeff Hamond, and Greg Van Scoyoc
Near & Dears
MICHAEL W. ADCOCK SCHOLARSHIP
In October 2018 our firm experienced the loss of a dear colleague, Mike Adcock. A scholarship fund has been established in his memory. Mike was an advocate for higher education and loved The University of Alabama. VSA is commited to continuing Mike's legacy, and we encourage you to consider contributing to the scholarship Fund in his honor. DONATE: Michael W. Adcock Scholarship Fund at the University of Alabama, P.O. Box 870122, Tuscaloosa, AL, 35487 (or give.ua.edu type "Adcock" into search field)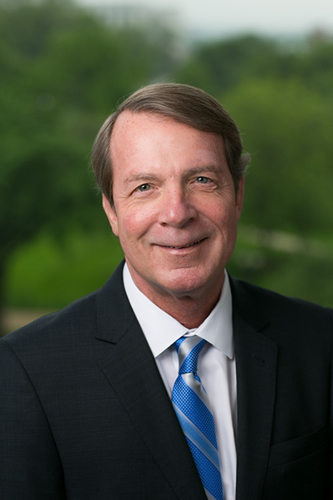 JEFFERSON MIDDLE SCHOOL ACADEMY
When VSA moved to The Wharf, our goal was to get involved with the community. We needed to look no further then across the street at Jefferson Middle School Academy. Since August 2017, VSA has participated in volunteer efforts at the Winter Extravaganza, and is supporting the upcoming end of the year field trip.

THE MCSHIN FOUNDATION
The McShin Foundation is a recovery resource foundation making a difference at the local level. Carol McDaid, Principal at Capitol Decisions, Inc., co-founded The McShin Foundation in Richmond, Virginia with her husband, John Shinholser in 2004. The McShin Foundation is Virginia's leading non-profit, full-service Recovery Community Organization (RCO) , committed to serving individuals and fmailies in their fight against Substance Use Disorders (SUDs). While providing the tools for recovering individuals to create postitive lifestyles, McShin aims to spread the word of recovery and educate families, communities, and government regarding SUDs as well as reduce the stigma attached to them.
N STREET VILLAGE
N Street Village is a community of empowerment and recovery for women in Washington, DC. N Street helps homeless and low-income women achieve stability and make meaningful gains in their housing, income, employment, mental health, physical health and addiction recovery. Stu and Pat Van Scoyoc have supported the Village for many years, making charitable donations and serving on the Honorary Board. Pat and Stu's connection to N Street Village stems from their mothers' commitment to education as a path for opportunity, particularly for women. This culminated last year with the dedication of the MARJ and MAK Job Training Center, named for both Stu's and Pat's mothers, with equipment support from the Comcast Foundation. Last year the Van Scoyoc family was presented with the Founder's Award at their 45th Anniversary Gala. https://www.youtube.com/watch?time_continue=1&v=slcKL9dTicE